ASP.NET MVC 4 Mobile Websites Succinctly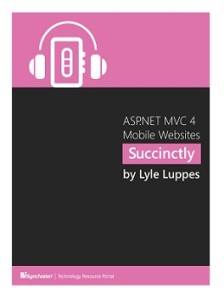 eBook Details:
Hardcover: 87 pages
Publisher: Syncfusion Inc.(2012 )
Language: English
ISBN-13: N/A
eBook Description
This book is for developers who are currently using Microsoft ASP.NET and MVC to create websites, and who are interested in creating websites that play nicely with mobile devices or want to update their existing site. If that's you, I'm assuming that you already have a working knowledge of MVC, so this book will not give you introductory lessons of what MVC is or tell you how to use it. It's designed to be a quick read for developers and to help them understand the concepts they need to know to improve their websites when it comes to dealing with mobile devices.
Table of Contents
I Love MVC 4!
Why a Book about Mobile-Friendly Websites?
Designing Mobile-Friendly Websites
Building an MVC Mobile Website
Making It Mobile-Friendly
Making It Look Good
Using Mobile Device Meta Tags
Tips and Tricks
Enhancing Performance
Still Using MVC 3?
Conclusion
Download :  ASP.NET MVC 4 Mobile Websites Succinctly