5 Great Benefits of Regularly Reading Books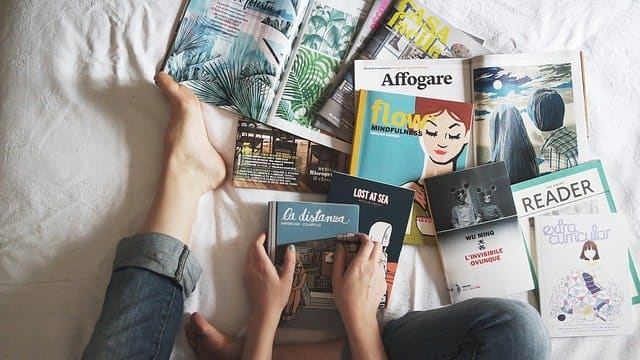 As we are all aware, reading is good for us. Well, at least that's what our parents and teachers have taught us. Were they right? In this article, I'm going to look into five proven benefits of regularly reading books.
Those benefits are;
Helps exercise your brain
Protects against ageing
Improves emotional intelligence
Reading expands your vocabulary
Increases chances of success
Now these are definitely not the only mental or physical health benefits of reading, however they are likely to be the best known examples.
Helps exercise your brain
One of the well known benefits of regularly reading books, is that it helps exercise your brain. That's right; a growing number of studies indicate that reading improves your brainpower and literally changes your mind to stay fit. Just like to have a healthy body, you have to workout – keeps us healthy by making our muscles stronger – so reading is a great workout for our brains.
When you regularly read, you are improving the function of your brain, and improving the brain's connectivity. A 2013 study had participants reading a novel for nine days in the evening. Then there was a period where they didn't read. On the days where participants weren't reading, researchers found that that was a significant increase in connectivity, and this then persisted for several days after reading.
Protects against ageing
Some people who are ageing will develop a progressive brain disorder that slowly destroys memory, thinking skills and eventually the ability to carry out the most simple tasks.
Alzheimer's disease affects more than 5.5 million Americans, and by 2050 it is estimated it will affect 14 million Americans over the age of 65.
There is no known medical cure or way to prevent it, however there's medical research that shows that older people who regularly read and solve math problems everyday, will maintain and improve their cognitive functioning.
Mentally stimulating activities such as doing online business courses, or reading books regularly throughout their lives was associated with a slower late life cognitive decline such as dementia, and loss of memory and the like.
Improves emotional intelligence
A Harvard study told volunteers that they could either read fiction, nonfiction or nothing at all. They found that people who read fiction had a better ability to understand other people's mental states. This is what scientists call "theory of mind", that is the ability to understand that not all people have the same desires, intentions and beliefs.
This then translates into having better empathy. Reading literary fiction isn't going to improve your empathy overnight, however research does show that long-term fiction readers do tend to have a better developed theory of mind.
The reason for this is that when we meet characters in a fiction book who are maybe annoying or unpredictable, it puts the reader in a situation where they might never have been before. That way, your theory of mind is improving since you experience new personalities and views of other individuals.
Reading regularly ends up giving you the chance to have a higher emotional intelligence.
Reading expands your vocabulary
This may seem pretty obvious, but it is worth mentioning. Regularly reading improves your vocabulary. We all know that saying "the rich get richer and the poor get poorer" right? This concept also applies to vocabulary. The more you read, the more words you learn and retain in your vocabulary.
A number of different scientific studies confirm this claim. In one of them, researchers found that students who read regularly gradually develop larger vocabularies which also influenced many other aspects of their lives from scores on tests to job opportunities.
If you create a personal goal to start regularly reading books, then you will over time, develop a larger vocabulary, which can then also improve your chance of success in life.
Increases chances of success
Speaking of chance of success, one study found that 88% of all the millionaires they interviewed said they read 30 minutes or more each day. Indeed, the researchers concluded that reading was a key factor in their success.
Highly successful people like Warren Buffett, CEO of Berkshire Hathaway, spend significant time during the day reading. He recommends reading 500 pages a day. Other very successful people, such as Bill Gates and Mark Zuckerberg are also well known for their reading habits.
They all regularly read, because they find that it helps them be prepared to face and deal with challenges in their lives. They know that nearly every single problem they encounter has been faced before by someone else. That's why business coaches and other entrepreneurs all swear by reading a book a week or more.
Keep regularly reading books
As we've seen from the above article, there are many well known benefits of regularly reading books. Reading keeps the brain active and engaged in comprehending different words, characters and certain scenes in a book. Brain stimulating activities like reading books and writing will preserve and improve your memory.
People with good reading habits experience much slower memory loss than those who didn't read. Reading helps result in better brain health during older age.
Again, the five benefits of regularly reading books are;
Helps exercise your brain
Protects against ageing
Improves emotional intelligence
Reading expands your vocabulary
Increases chances of success
Go forth and start a new book today. Make it a daily habit, and you're on the way to a healthier brain and a larger vocabulary. Enjoy the pastime!