Cardiomyopathies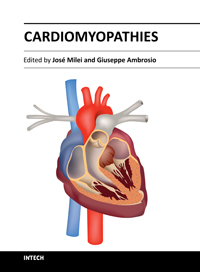 eBook Details:
Paperback:320 pages
Publisher: InTech (June 12, 2013 )
Language: English
ISBN-13:978-9535111030
eBook Description:
The disease of the heart muscle may occur secondarily to common diseases, such as ischemic, hypertensive and valvular, among others. However, there is a group of conditions with intrinsic myocardial involvement from gene or multifactorial etiology, and high morbidityand mortality that represent a diagnostic and therapeutic challenge for the physician. The book is focused on these cardiomyopathies, its features, its pathophysiology and its relation to sudden death. Mention is made also on general aspects, like ecocardiographic findings and myocardial contractile reserve, specific as pathophysiology and molecular mechanisms and cardiomyopathies in special populations. Special attention was deserved to cardiomyopathies in pediatrics, diabetic patients and women, as well as to the cases of chronic heart failure and dilated cardiomyopathy.
Download :Cardiomyopathies