Learning Through Digital Media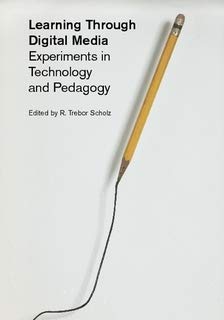 Learning Through Digital Media

by R. Trebor Scholz (ed.)
eBook Details:
Publisher: Institute for Distributed Creativity 2011
ISBN/ASIN: 9780615451480
License(s): Attribution-Noncommercial-Share Alike 3.0
eBook Description:
The simple yet far-reaching ambition of this collection is to discover how to use digital media for learning on campus and off. It offers a rich selection of methodologies, social practices, and hands-on assignments by leading educators who acknowledge the opportunities created by the confluence of mobile technologies, the World Wide Web, film, video games, TV, comics, and software while also acknowledging recurring challenges.
Contributions by Shannon Mattern, Adriana Valdez Young, Alex Halavais, Tiffany Holmes, Mushon Zer-Aviv, Sol B. Gaitán, Mark Lipton, Matthew K. Gold, Vanalyne Green, Michael Mandiberg, Ulises A. Mejias, Jessica Irish, David Carroll, Jeffrey W. McClurken, Abigail De Kosnik, David Parry, Holly Willis, Jonah Bossewitch and Michael D. Preston, Elizabeth Losh, Colin Rhinesmith, Martin Lucas, Kevin Hamilton, D.E. Wittkower, Kenneth Rogers, Adam Hyde, Fred Stutzman, Patrick Lichty, Craig Dietrich with Jon Ippolito, Laura Forlano, Mark Sample, Elizabeth Ellsworth.
Download or read it online here: Learning Through Digital Media