Wireless Sensor and Actuator Networks for Smart Cities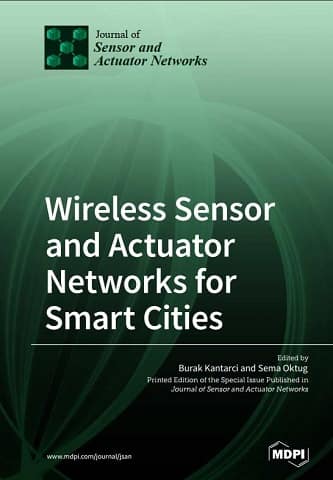 Wireless Sensor and Actuator Networks for Smart Cities
By Burak Kantarci , Sema Oktug (Eds.)
eBook Details:
Publisher: MDPI 2019
ISBN-13: 978-3-03897-423-9 (Pbk); 978-3-03897-424-6 (PDF)
Number of pages: 170
License(s): Open Access CC BY
eBook Description
Our lives are being transformed by the interplay between mobile networks, wireless communications and artificial intelligence. This transformation is an outcome of the emerging Internet of Things (IoT) concept, and the advancements in computer architectures that translate into high computing power, high performance processing and huge memory capacities. In addition to the IoT, as a very close concept, cyber-physical systems target seamless integration of physical systems with computing and communication resources. Furthermore, in the urban areas, the integration of the "software-defined sensor networks" and "sensing as a service" concepts with the legacy WSN-based systems is leading to the transformation of the conventional city services towards smart cities.
Smart energy, smart driving, smart homes, smart living, smart governance and smart health are just a few services that can be offered by smart cities. Furthermore, while these concepts are the major application areas, smart citizens close the loop by participating in sensing, actuating and decision making processes. In the smart cities, legacy WSN-based services are extended by having citizens act as sensors. Opportunistic or participatory sensing models enable groups of individuals to collaboratively work towards the same goal with strong interaction links even though this does not always require strong social links between them. Thus, dedicated and non-dedicated wireless sensors form communities; collaborating communities form social networks where interaction can occur in the form of software-defined sensing. This transformation in WSNs introduces unique solutions for the communication plane of smart cities.
In this Special Issue, we are seeking submissions that focus on novel solutions for wireless sensor and actuator networks in smart cities. This Special Issue invites academic and industry researchers in computer science and engineering, electrical engineering and communication engineering, as well as ICT industry engineers and practitioners, to contribute with original articles in all aspects of wireless sensor network and actuator systems for smart cities.
Download or read it for free from here : Wireless Sensor and Actuator Networks for Smart Cities